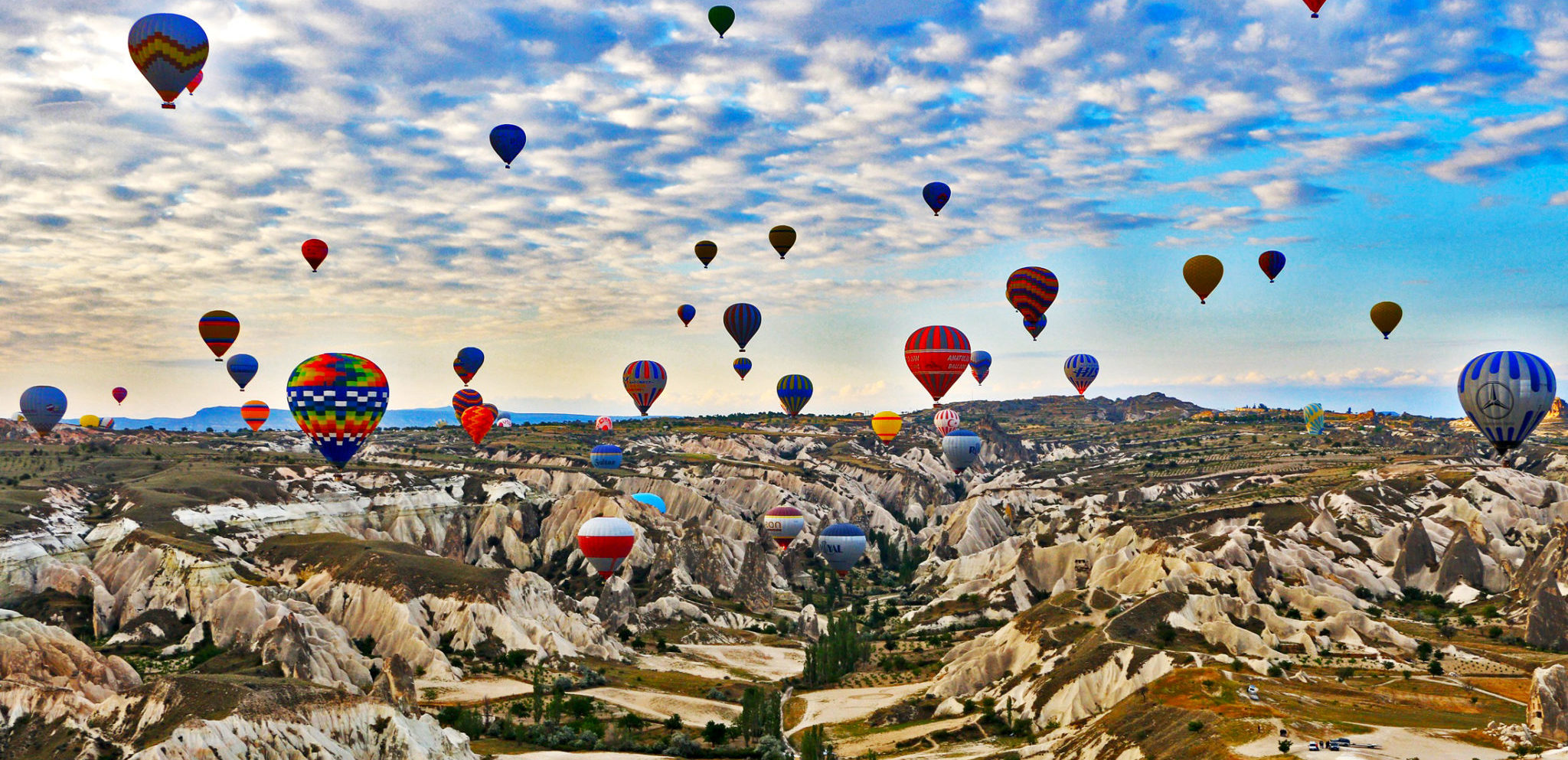 CAPPADOCIA BALLOON TOUR


With its fairy chimneys and volcanic valleys, Cappadocia is ready to fascinate you. One of the best ways to explore this extraordinary geography is by hot air balloons. alloons will allow you to explore this magnificent view by maneuvering up and down between valleys, fairy chimneys, gardens, rock houses during sunrise. Valleys clad in different colors and the harmony of balloons in the sky will immortalize your memories that will allow you to take excellent photos.
It is not possible to return to Cappadocia without flying with a balloon.
Hotel Transfers (Pickup and Drop-off) 05:00
Basket for 8 to 16 people
Flight Attendance Certificate
The highest level of Covid19 measures
Flight time is around 45 – 65 minutes.
Passenger capacity ranges from 12 to 20 passengers.
As a souvenir of the day, all our passengers are given certificates.
Before the flight, our guests are picked up from their hotels free of charge and taken back to their hotels free of charge after the flight.



Questions and Answers with Balloon Tour



WHAT IS THE AGE LIMIT FOR CHILDREN?
Children aged 0-4 are not allowed to fly by Civil Aviation. Children over 5 summers can fly and adult pricing will apply.

IS THERE ALWAYS FLIGHTS IN CAPPADOCIA?
YUP. There are flights in Cappadocia for 12 months as long as the weather conditions allow. The peak period is between March and November. There are flights during the winter months, but they are canceled by Civil Aviation due to bad weather conditions.

HOW HIGH CAN WE GET WITH THE BALLOON?
Balloon lovers usually want to fly at low altitudes in Cappadocia because they want to see the geographical beauties (Fairy Chimneys, Valleys, Rock-carved houses, bird nests) up close. You will pass by the fairy chimneys, just over the trees, and ascend to a height of +600m.

HOW LONG DOES THE BALLOON TOUR TAKE?
It is a total of 3 hours of activity from start to finish. You will be picked up from your hotel between 4.00-5.30 in the morning (depending on the period). After having a light breakfast at the meeting point, we will take you to the departure area of ​​the balloons with the approval of the Civil Aviation. Here you will watch the balloons being inflated, then your flight will start after receiving the safety information. You will fly for approximately 1 hour during sunrise. Your activity may end 10 minutes early or late, depending entirely on the wind strength and the place to land. After landing, there will be a celebratory treat of non-alcoholic champagne, juice and cake, while your pilot will give you a Certificate of Flight to make a memory. We will then transfer you to your hotel.
Note: Standard flight is 60 minutes, Deluxe flight time is 90 minutes.

DOES THE PRICE CHANGE WHEN I'M AGAIN?
NO does not change. If you want to come from nearby cities and join the balloon tour. After you make your deposit payment, we will send you the meeting point location. You must be ready at our office at the time we have specified. If you cannot afford to arrive early in the morning, we recommend that you come to Cappadocia the day before. If you are staying in a hotel in the Cappadocia region, we will pick you up from your hotel free of charge and bring you back to your hotel.

IF MY FLIGHT IS CANCELED DUE TO WEATHER CONDITIONS
First of all, the weather conditions and wind speed during the morning sunrise are very important. If the wind speed exceeds 11km/h, the flight will be cancelled.

Every morning in the morning, the balloon operators are informed about whether there will be a Civil Aviation flight or not, on the website http://shm.kapadokya.edu.tr/. The appearance of the Green Flag during the morning sunrise means that the flight will take place. If it is very very bad, Civil Aviation will close the flight 1 day before. If the weather is normal, the flight will check again on the day, and if the weather is bad, the guests will be transferred to their hotel with the appearance of the Red Flag.

If the guests have availability, their reservations will be transferred to the next day. If there is no availability, their deposit will be refunded to their credit card account.

HOW SHOULD I DRESS
Cappadocia is at an altitude of 1000m above sea level. It will also be cooler than the ground while in the balloon. Therefore, we recommend our guests to dress very tightly during the winter period. We recommend that they wear light jackets and daily comfortable clothes according to seasonal conditions in Spring, Summer and Autumn periods. Do not forget that you will be standing in the balloon for 1 hour. We also recommend that female guests not wear high-heeled shoes.

WHERE IS THE FREE HOTEL TRANSFER INCLUDED?
If you are staying in one of the Cappadocia region hotels, we are picking up from the hotel and being brought back to the hotel free of charge. We pick up from Göreme, Uçhisar, Ürgüp, Ortahisar, Avanos, Nevşehir central hotels.

WHERE ARE WE LANDING?
Hot Air Balloons will make the most likely landing in the widest area after the flight, depending on the wind strength and direction.

CAN PREGNANT LADIES FLY?
NO. Pregnant women are not allowed to fly. The reason is the possibility of the basket drifting on the ground due to weather conditions during landing.

ARE FLIGHTS SAFE?
Balloon operators fly with licensed pilots as a legal requirement. In addition, periodic maintenance of baskets and balloons is obligatory. General Directorate of Civil Aviation inspections are carried out.

HOW FAR CAN WE GO WITH THE BALLOON?
Depending on the direction and intensity of the wind, you will travel a distance between 4km and 20km.

HOW IN ADVANCE SHOULD I MAKE MY RESERVATION?
When you decide to fly in a balloon in Cappadocia, you can book a balloon tour. Please contact for reservation.
Note: Prices vary periodically. April-November is the busy period.

HOW MANY PEOPLE WILL BE IN THE CART?
Hot air balloon baskets can carry 8 to 24 guests. While the pricing of small baskets is high, the prices of large baskets may decrease. There is enough living space in the basket for guests to enjoy the view. You will also be able to see the whole landscape and take pictures, as experienced pilots will rotate the hot air balloon with 360-degree pain. We would like to state that we generally serve our guests with baskets of 16 or 20.

WHAT ARE THE GOOD CONDITIONS FOR FLIGHT?
Hot Air Balloons perform better in cold weather and rise more easily with warm air. Balloons usually fly during the morning sunrise. If it is not possible to fly only in the winter due to morning fog or unsuitable weather conditions, if the Civil Aviation allows it in the afternoon, there are 3-5 afternoon flights per year.

WHAT SHOULD I BRING WITH ME?
We strongly recommend that you charge your phone and camera. Because you will take lots of pictures and have perfect memories with your loved ones in the unique view of Cappadocia.

WHERE WILL WE MEET IN THE MORNING FOR PURCHASE?
Please be ready at the lobby or entrance of your hotel at the time we have given you. You will be picked up 30 minutes-60 minutes before the flight. Before the flight, we will have snacks such as tea-coffee-juice and pastry-cakes.

Please do not forget to indicate your room number after checking in to the hotel for pick-up.

WHEN WILL YOU TELL US THE RECEPTION TIME?
We will inform you of your estimated time of receipt via e-mail or SMS. But we will let you know your exact pick-up time one day before you check in to the hotel. We will also learn your room number from you.

WHAT SIGHTS ARE WE GOING TO SEE?
Every day, we change our departure point to show you more valleys and fairy chimneys according to the wind strength and direction in the morning. During the flight, you will have the opportunity to see vineyards, gardens, fairy chimneys, rock churches, rock houses, pigeon houses, Kızılırmak, Erciyes Mountain and Hasan Mountain.

WHO USES HOT AIR BALLOONS?
Pilots with a hot air balloon license from the FAA (Civil Aviation) can use the balloons. In addition to the written exams, they can get this license after making various balloon flights.

CAN I FLY WITH A BALLOON WHEN I WANT?
NO you can't fly balloons whenever you want. You can fly early in the morning only if the weather conditions allow. Since the hot air balloon loves the cold weather, your flight will only take place during sunrise.